Welcome! Please enjoy the September edition of The Child & Family Guidance Center's monthly e-newsletter.
EHR Project:
Foundation's Matching Gift to help CFGC step into future, improve access for families
A multi-year infrastructure project, aimed at improving access to and delivery of The Child & Family Guidance Center's mental health treatment and support services, is getting a major boost, thanks to the Elizabeth M. Pfriem Foundation.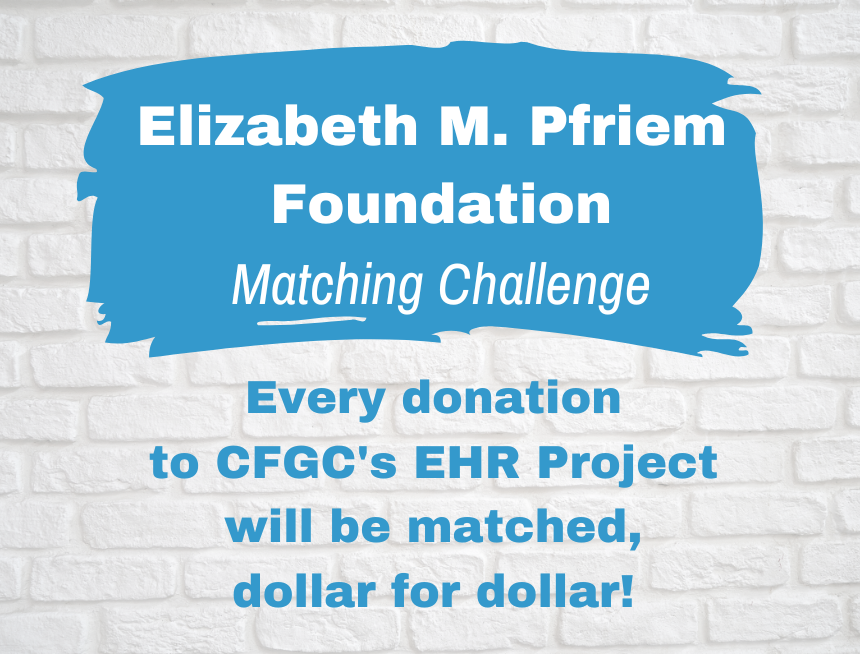 The Pfriem Foundation is sponsoring a $50,000 Matching Gift Challenge for CFGC's Electronic Health Record (EHR) system overhaul. That means every dollar donated to the EHR campaign will be matched by the foundation, up to $50,000. "The commitment of the Elizabeth M. Pfriem Foundation is incredible," said CFGC's President & CEO Michael Patota. "This couldn't come at a more crucial juncture, giving us the potential to raise a total of $100,000 for this essential project. Combined with the support of our 2022 Champions for Children Gala guests, we will have the funding to move forward and cover a full year of this multi-part project."
In addition to the Pfriem Foundation and private donations, CFGC is seeking state and federal grants/funding to support the project, which will total over half a million-dollars over the next five years.
CFGC serves roughly 3,500 children, teens and families throughout Fairfield County each year, providing crisis services, trauma treatment and programs that give families the tools for long-term emotional and psychological health. Despite offering a hybrid model of care since March of 2020, much of CFGC's forms and systems remain paper based. The new EHR will streamline these systems and ensure families can better access information about their care.
"With a new, secure and updated system we will be able to improve the client experience and satisfaction, reduce costs and increase efficiencies so that we can continue to provide the critical treatment and care that changes lives, generations and communities," Patota said. "We thank the Pfriem Foundation and every donor who has the ability to support this campaign."
Donations to the Elizabeth M. Pfriem Matching Challenge can be made quickly and securely online by clicking here. Checks, payable to The Child & Family Guidance Center, can be mailed to our offices at: Attn: Development, 180 Fairfield Avenue, Bridgeport, CT 06604. Please include "EHR Matching Challenge" in the memo line.
New program helps youth transition from emergency care, back into the community
Getting children and teens out of emergency rooms and safely back into the community —with a strong support system — is the goal of The Child & Family Guidance Center's newest program.
Intensive Transition Care Management (ITCM), provided through a contract with Connecticut's Department of Children and Families (DCF), is aimed at helping youth and their families transition out of emergency rooms and other acute and subacute care centers. ITCM provides 8-12 weeks of intensive care coordination, facilitating connections to clinically appropriate outpatient and community support services.
"Emergency rooms are no place for long-term, meaningful mental health care for kids," said CFGC President & CEO Michael Patota. "We've seen a serious increase, statewide, of youth in crisis ending up in emergency rooms and their families needing support in figuring out the next steps."
ITCM is a family-centered program that uses trained peer specialists and care coordinators in a strengths-based approach called the Wraparound Model. For CFGC, it is an extension of its existing Care Coordination program, which supports children in Greater Bridgeport with complex behavioral health needs.
Both programs focus on creating a plan for the entire family, building up support systems and working toward long-term solutions.
"ITCM is a natural extension of our Care Coordination program, but with more clinical oversight" said Virginia Lopez, CFGC's Director of Family Support Services. "It's all about helping a youth and their family navigate systems they may not be familiar with, during what is often a high-stress and challenging time."
Congrats to the lovely couple!
CFGC celebrated our first client wedding on June 30 – a beautiful ceremony held in Beardsley Park and organized by CFGC's own Regine Coriolan Toussaint – the director of our Intensive Family Preservation program (IFP).

This young couple and their four-year-old son received services through IFP, which assisted them in finding reliable housing, exploring job opportunities and, overall, working toward breaking some generational cycles and overcoming challenges that both parents had experienced growing up. Before they completed the program, they shared with Regine that their dream was to formalize their union with a wedding, but financial concerns held them back.

Well, Regine got to work right away and, with the generous donations of some CFGC staff, our board members and community partners (including a stunning gown donated by Joan's Bridal Boutique in Bridgeport and food donated by El Coquito!) Regine put together a special celebration for the couple.

"Everyone came together to help this family realize their dream," Regine said. "It was really beautiful to see."
Back to School Supplies
All children deserve the opportunity to start the school year off on the right foot.

Gala Foods Supermarket of Bridgeport and a generous anonymous donor ensured children in our Community Support for Families (CSF) program are heading back prepared, and in style.

Back to school supplies play a vital role in a child's excitement and confidence – as well as a child's development, socially and mentally.

We're grateful for every donor who gives their time or resources to help families who need some added support this year.

CFGC is wishing all a safe, healthy and happy new school year. Please remember, The Child & Family Guidance Center is here for you!

To learn more about our mental health and support services, please call 203-394-6529 or dial 2-1-1 to be connected to a mobile crisis clinician.

Pictured: Our CSF team with the back to school supplies, made possible by our generous donors.
Sign up now! The 2022 Reservoir Run
The Kiwanis Club of Weston has once again selected CFGC as a beneficiary of its October Reservoir Run - a half marathon and 5K in Weston.
The race kicks off on Sunday, October 23, taking a scenic route through Weston.
Registration is now open for the run's half marathon, 5k run or free kids fun run. Register and help support CFGC and the wonderful volunteers who put this day together: Sign up here.
Can't attend but want to support? Donations can be made to the race at this link.
Hispanic/Latinx Heritage
Hispanic Heritage Month is observed each year from September 15 to October 15. This year's theme, "Unidos: Inclusivity for a Stronger Nation," encourages us to ensure that all voices are represented and welcomed to help build stronger communities and a stronger nation.
Throughout the month, the HHS Office of Minority Health (OMH) and other federal offices are sharing bilingual education messages about disease prevention and health promotion to help build healthier and stronger Latino communities.
Hiding in Plain Sight: A documentary
Over the summer, filmmaker Ken Burns premiered his documentary film: Hiding in Plain Sight: Youth Mental Illness, about the mental health crisis among youth in America.
"The two-part, four-hour film follows the journeys of more than 20 young Americans from all over the country and all walks of life, who have struggled with thoughts and feelings that have troubled—and, at times—overwhelmed them. They share what they have learned about themselves, their families, and the world in which they live."
Contact Us
info@cfguidance.org | 203-394-6529