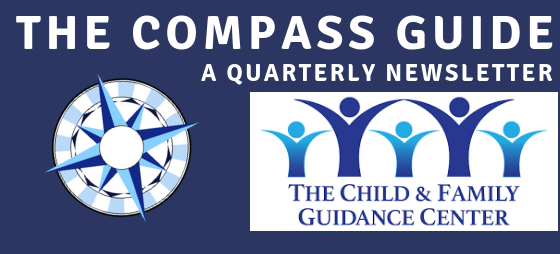 IN THIS SPRING, 2019 Issue
A Note from our President/CEO
Staff & Program Spotlight:

Near & Far Aid helps clients overcome Childcare and Transportation Obstacles.
SMART program teens create their own field trips, plan recreation room at the Center.

Upcoming Community Events: Champions for Children Fundraising Gala Returns, May 30th​
Recent Community Events: The Bar Method - First Speaker-Breakfast - Kiwanis of Bridgeport Volunteer at The Child and Family Guidance Center - Fairfield County's Giving Day
A Note from our President/CEO
Dear Friend,
As the days get longer and the landscape comes alive with color, I'm reminded that Spring is the season of growth and hope. That's a lot like what the children and families we serve experience in our services throughout the year.
You may know that May is National Mental Health Month but did you know that today is National Children's Mental Health Awareness Day? It's a great time to raise awareness by sharing with your friends why this is an important issue to you.
A great way to do that is by supporting our Champions for Children Gala on May 30th! You'll discover more about this most important fundraiser of the year in this issue of Compass Guide. You won't want to miss seeing what's in our Silent Auction, including tickets to popular NBC shows, and a generous donation from Academy Award winner Susan Sarandon.
We sure had an eventful winter and made exciting connections with our community. The teens in our SMART Recovery program were busy planning pro-active social activities and field trips. In this newsletter, you can also learn how a grant from Near and Far Aid has helped families overcome obstacles to accessing mental healthcare services, how Kiwanis of Bridgeport volunteered their time one Saturday morning, and how your community of CFGC supporters connects with our mission.
There's much to catch up on in this issue as we continue to help kids and families today for a better tomorrow.

Michael Patota, CEO/President
The Child and Family Guidance Center
STAFF AND PROGRAM SPOTLIGHT
Clients Overcome Obstacles to Care Thanks to Near and Far Aid
Lack of childcare and transportation are two barriers for low-income parents seeking mental healthcare. But thanks to grant funding from Near and Far Aid, we have been able to provide these services at no cost to families. This winter we completed a child-friendly space and hired Liliana Barraga to provide afternoon childcare Monday through Friday. Parents in need of child supervision can now meet with a clinician or medical provider privately. It is also open for siblings of a client when a parent has no other alternative and the parent and client need to meet with a therapist together.
Through the grant from Near and Far Aid, families can also overcome another obstacle to healthcare: lack of transportation. A 2013 review published in the Journal of Community Health found transportation barriers lead to rescheduled or missed appointments, delayed care, and missed or delayed medication use. From two studies, it was found that nearly 25 percent of lower-income patients have missed or rescheduled their or their child's appointments due to lack of transportation. In fact, a 2016 survey of Bridgeport regional community partners cited "transportation services" as a main barrier to their clients receiving our services.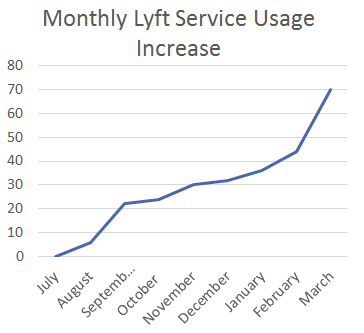 But, thankfully, through funding from Near and Far Aid, families have been using Lyft to get the help their children need. In fact, since July of 2018 we've provided 268 rides to families, and the number of families using this service is increasing monthly.
SMART Program Empowers Teens to Plan Pro-Social Activities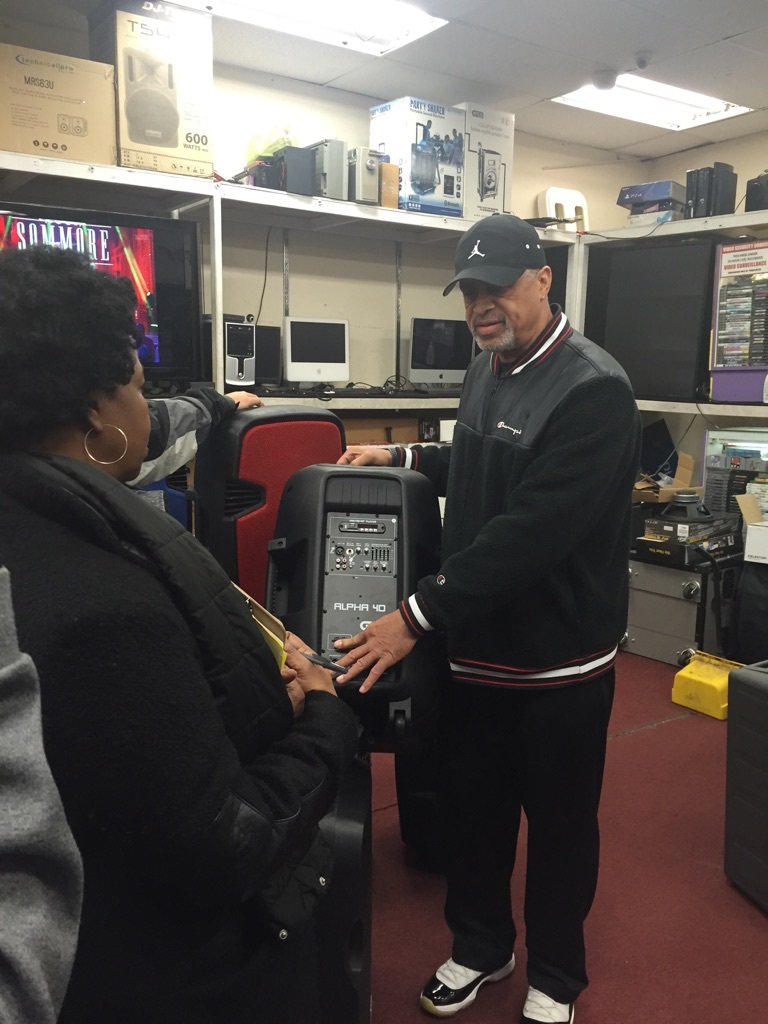 The SMART (Self Management and Recovery Training) program empowers teens to collaboratively plan and take responsibility for "pro-social" activities. SMART is a new program in our Turning Point Substance Abuse Prevention Program, and complements our existing ACRA model. This winter, the participants started the first steps in planning a recreation room for the lower level at the Center. A field trip on February 8th became part of their research.
Director Donna Fletcher reported, "We took a short walk to City Sound Electronics led by Mr. David Daniels who is a retired Bridgeport Police Officer and DJ! Mr. Daniels gave the kids a lesson on all things electrical, including amplifiers, mixers, speakers, etc. that would be needed to develop our CFGC sound system. The kids were excited to see that they will be able to have some real fun creating their own music."
Mr. Daniels added a motivational component to his lesson too. "Dream big, don't give up, stick with positive people as we become the people we stick with," he said. "Stay on the right side of the road."
Since then, the teens have developed their plans for a healthy place to socialize, including the costs of recreation items. Funding for SMART came through a ten month CROSS XXXX last September. It will rely on funding from private sources such as generous individual donors to continue in the years ahead.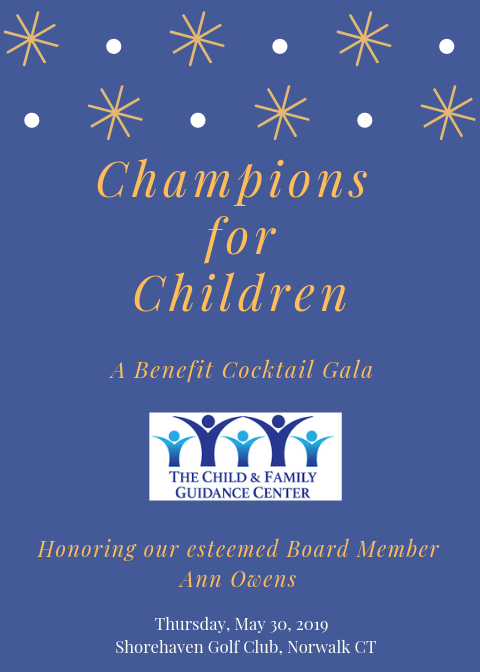 Champions for Children Returns on May 30th, 2019!
You won't want to miss the return of our Champions for Children fundraising gala! There are many ways to support our most important fundraiser of the year, from joining us on May 30th at The Shorehaven Golf Club in Norwalk, donating to our silent auction, or even making a simple donation on-line. The Child and Family Guidance Center relies on diversified funding from individual donors to support all of its 14 programs, and this event ensures our end of fiscal year budget goals are met. We have an ambitious $123,000 event goal, so every little bit counts from each and every champion in our community.
Our Volunteer Event Committee has been busy planning the return of this event with new and fun activities. The sparkling cocktail reception is made possible by generous sponsorships from R.D. Scinto Corporation, Mutual of America, and Pullman & Colmey. And, because of the generous in-kind sponsorship of their event space, Shorehaven Golf Club is helping us reach our ambitious $123,000 funding goal.
Our Silent Auction is building up to be the most exciting ever!
Along with an original signed photo, Academy Award winning legendary actress Susan Sarandon is donating a Movie Script of "Bad Moms" signed by celebrities Susan Sarandon, Kristen Bell, Christine Baranski, Peter Gallagher, Cheryl Hines, Kathryn Hahn, Jay Hernandez, Jon Lucas and Scott Moore!
And for entertainment buffs, the fun goes on. Paul Owens, son of our Honoree Ann Owens, has donated tickets to popular shows such as The Tonight Show with Jimmy Fallon and The Today Show ...
Membership gift certificates from fitness centers Equinox and The Bar Method will surely be competitive items on the auction block.
Thanks to local Nonprofit Neighbors Beardsley Zoo, Stepping Stones Museum, Cabaret Theatre, and Fairfield Theatre Company, auction winners will go home with gifts for family and friends.
.....Thanks to our Local Business Good Neighbors, there will be plenty of deals on restaurants, wine collections, fashion and beauty experiences, sporting events ...and more!
Scenes from our last Champions for Children gala!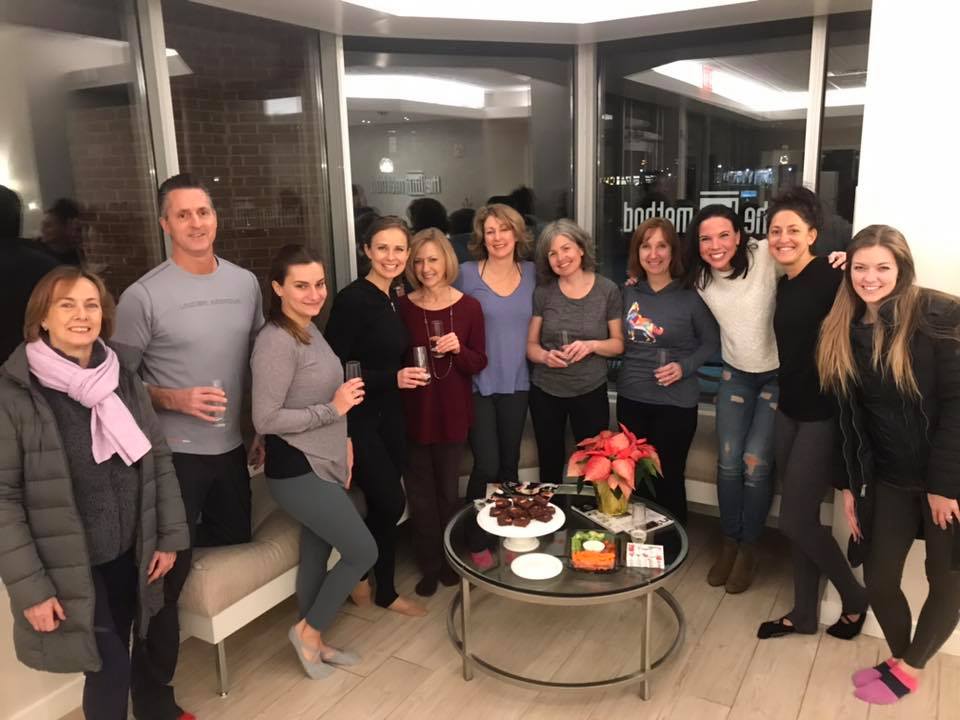 Thanks to our friends at The Bar Method in Darien for donating proceeds from their introductory class on January 17th! We were excited to meet new friends of the Center and take part in this exciting fitness trend.
The Bar Method's generosity didn't stop there though. They were the first to donate to our Champions for Children Silent Auction. One lucky winner on May 30th will go home with a free month of classes!
The Bar Method Darien is located at 800 Post Road, Darien.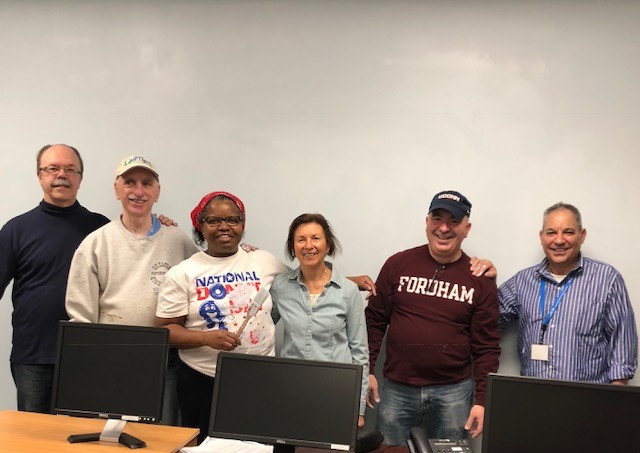 The Kiwanis of Bridgeport gave up a Saturday morning in March to paint our first floor conference room. This is where our outpatient clinicians meet, and where we provide group space to the families in our Substance Abuse Program. Thank you Kiwanis for helping to make our environment beautiful and welcoming!
BUILDING RESILIENCE IN OUR CHILDREN SPEAKER-BREAKFAST with Dr. John Woodall
On a cold morning in February, about 100 friends of the Center joined our first speaker breakfast at The Patterson Club. Warming up with a delicious breakfast, we all learned from Dr. John Woodall how important vision and hope is to building resilience in Children. The crowd was captivated as he shared stories of working with children in post-war Kosovo, and working with hospitalized adolescents here in Connecticut.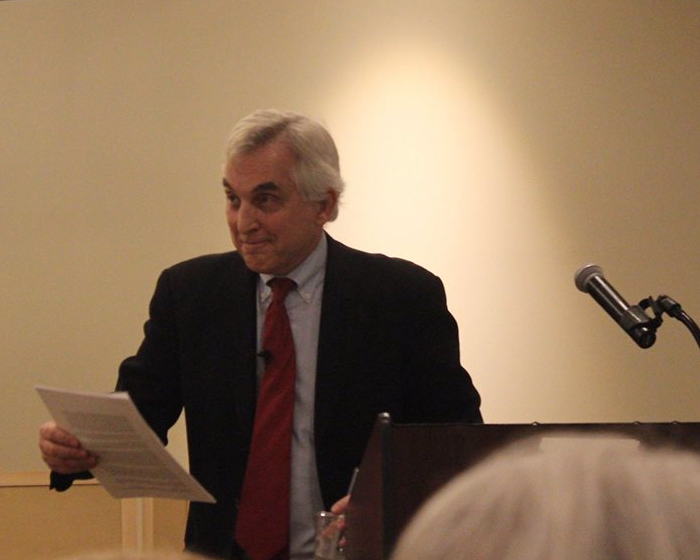 Dr. Woodall is Founder and Director of The Unity Project, a resilience-building program for youth. A psychiatrist, formerly on the faculty of Harvard Medical School, he has a special expertise in posttraumatic stress disorder and resilience. He was Country Director of a USAID-funded refugee relief effort in the Balkans after the war there, and the Convener of the "Resilient Responses to Social Crisis Working Group" at Harvard University and directed the "Task Force for Accountability for War Crimes in the Former Yugoslavia" at Harvard's John F. Kennedy School of Government. He is Co-Founder of the Healing Arts Project working with New York City's Department of Youth and Community Development after 9/11 to build resilience in the city's children and developed similar resilience building programming in New Orleans and Mississippi after Hurricane Katrina and in northern Uganda working with former child soldiers and their victims. Since the Newtown tragedy, he has launched a series of resilience building efforts there.
Fairfield County's Community Foundation Giving Day Raises Funds & Community Spirit ​
Our CFGC community brought "team spirit" to a whole new level on this one-day-only on-line fundraising event produced by The Fairfield County's Community Foundation. Because of everyone's participation, we grossed over $8000 and introduced 43 new supporters to our philanthropic community on February 28th. We are especially grateful for MTM Services' $500 matching donation which inspired others to give generously. ​With all this support, we were thrilled to earn a bonus $227.27 from Fairfield County's Community Foundation.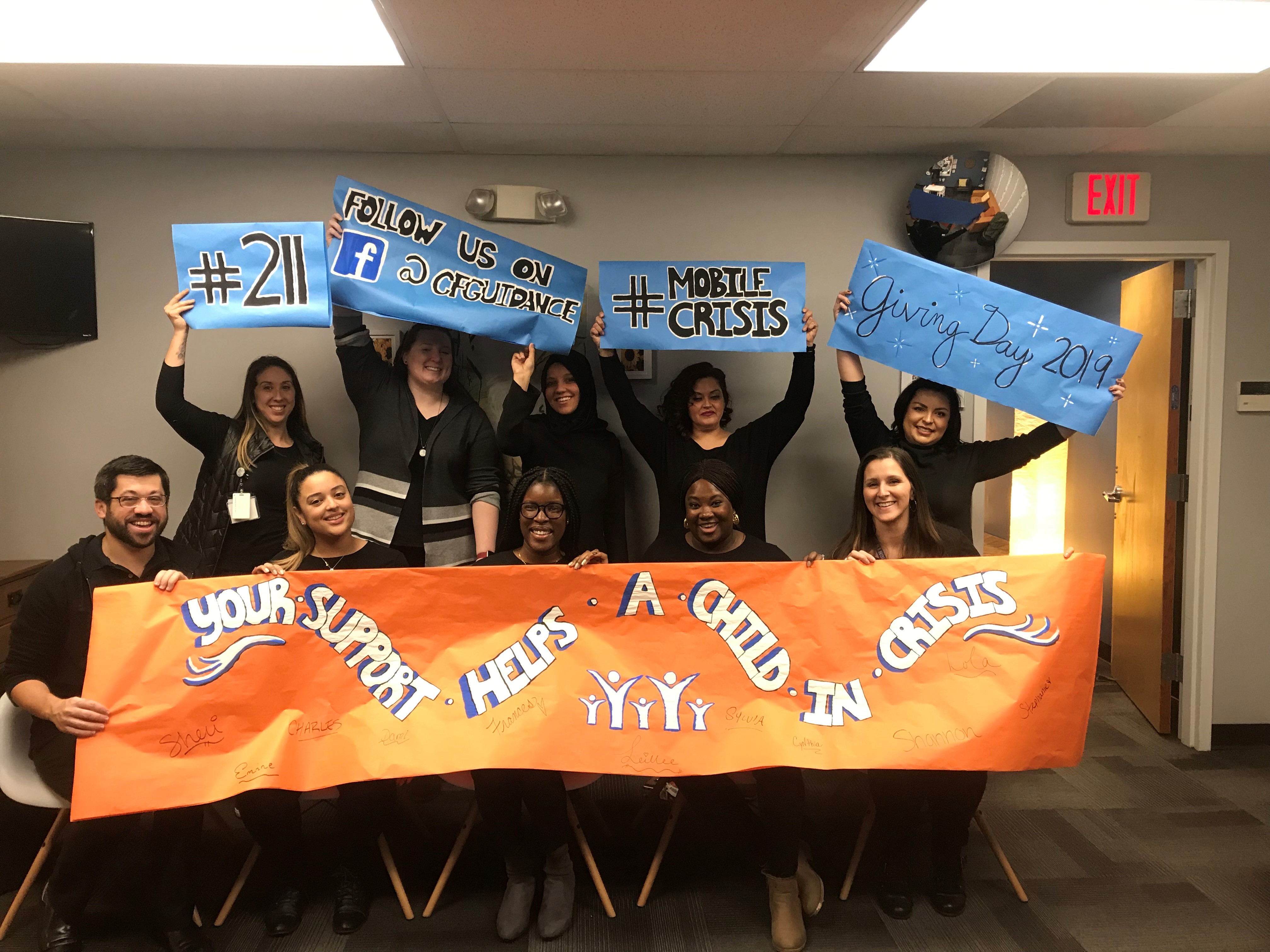 The extra effort our Mobile Crisis Intervention crew, (shown above), gave their campaigns was truly uplifting. By working together as a team to raise awareness, and creating their own fundraising pages on our Giving Day campaign site, they showed just how much they go the extra mile. Additionally, our Care Coordination team created a Facebook Video that shows how important healthy families are to our community. Guests at our upcoming Champions for Children gala will have a chance to meet many of these staff members and learn more about The Child and Family Guidance Center.
The Child & Family Guidance Center
180 Fairfield Avenue, | Bridgeport, Connecticut 06604
203-394-6529 | info@cfguidance.org